티스토리 뷰
분류없음
Cheer Up 세상사 2016.10.30 20:01
Hotel Life enjoys a reasonable price - Daily Hotel VS hotelnow
The so-called imminent popular malls shelf life of the product is going, or closing the sale of tickets imminent. The seller may sell any goods to be able to clean up, inexpensive to be discarded anyway, the consumer is good to use the same products to more affordable price. Recently gaining popularity in the hospitality industry, such ttaengcheori commerce, and to compare the two leading app, The Daily Now two of the hotel and the hotel.
Daily Hotel
Category: Travel
Capacity: 6.1MB / 31.4MB
Supported Languages: Korean
Developer: Daily
Google Play - Free / App Store for free
Daily hotel is a commerce-time hotel booking restaurant reservations app with the lowest reservation deadline is imminent national five-star hotel and restaurant items. You can meet the daily selection of the best hotels to a maximum of 70% discount can be confirmed hotel reservations in real-time through a three-step reservation system. Daily Gourmet and sobiseu and also provides for a special meal every day from lunch to dinner, can be assigned a seat immediately without having to wait in real time restaurant reservations, confirmation system.
main screen
Top: search, local settings, the date set
Stop: Recommended hotels list
Bottom: Today the hotel, booking history, my information
Selection Screen
Top hotel guests, stay
Stop: Introduction Image, hotel information
Bottom: Reservations
hotelnow
Category: Travel
Capacity: 8.8MB / 31.4MB
Supported Languages: Korean
Developer: Bonbonlab Inc.
Google Play - Free / App Store for free
Now is the day of booking app that hotel listings Hotel Recommended by reflecting the discount rate and hotel rating. Ttaengcheori day and provides discounts of up to 70% discounts on ensuring the impending domestic prices. After 30 days from today's date scheduled, of course, it can be scheduled as needed at any time from 7 am to 2 am. The hotel offers detailed information and photos optimized for mobile, hotels, motels, can handle all of Pensions, resorts, guest houses reservation.
main screen
Top: menu, region, location, and date specified
Bottom: Hotel Information
Selection Screen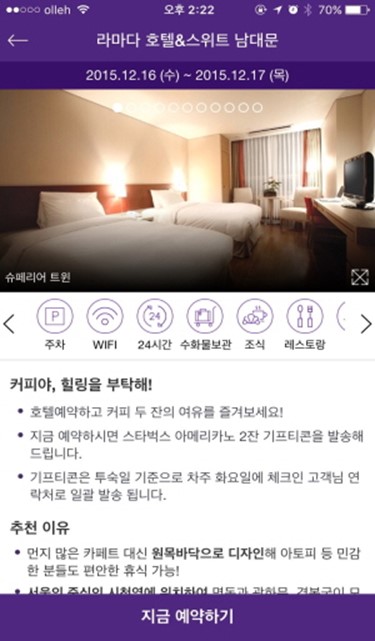 Top: Hotel Image
Stop hotel rating, location, information
Bottom: please choose
User Experience
App available, no matter how excellent design features, even crude, or raise your hands if the interface is not uncomfortable. Want to really show two apps look like.
Daily Hotel
Rating 3 points - a simple but somewhat clunky
The screen layout is very intuitive and simple it is. Menu is not complicated whoever seems to be easily adapted to use with no great difficulty. But the design is too old. It simple, but if he had to choose a more fashionable colors and designs ARM, worse.
hotelnow
Rated 4 out of - a lot of neat features, but complex
Now hotel has built a number of features considering the user's convenience. Since the entire menu to be dutiful Daily complex than the hotel, it puts up too much in the narrow screen Bonnie also occur if the buttons are five smaller input.
User rating
Evaluation of the user is always cool. Rating 4 point can also evaluate only positive note due to minor reasons heoda even if the lawnmower horoscope. Deliberately leaving the user rating is a number of people who have no assessment scores equally important part, because very few yeoksido.
Daily Hotel
Rated 5 - 5 out of seeing really long time
Passing is the fact that four points is not an easy task. Because even a minor problem because few users that rated the venture terrorism. Daily users about the hotel was given a rating of 5, 4 out of the 5% to 90%, and the rest were given a 3-point or 2 points. If the level seems to be that perfect look.
hotelnow
Rated 4 out of 4.5 points, most are satisfied
Most appeared to user satisfaction. Many users were also granted a user has rated a 4 out of 5 rating. But to browse your comments in a review, four points back to go up quite a long time and had to give up to continue the procession led five points.
Key Features
Key features of the book app is perfect gajida 3. Whether and how many hotels are ready, how do you provide detailed information for each room, payment is to Wondering how convenient. I compared the two apps around these items.
Daily Hotel
Rated 4 out - only hotels optimized for users of
1. Reservations can be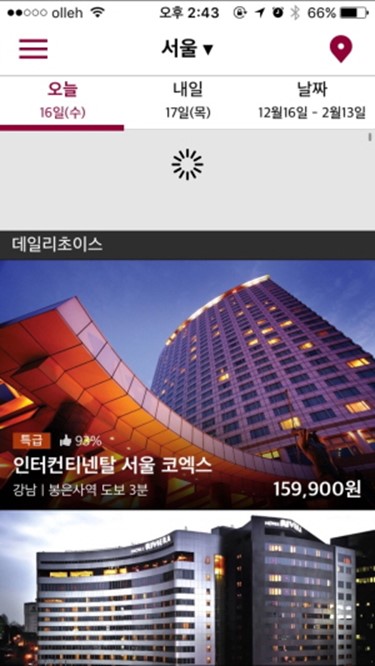 Wed 12 May 16, 2015 17:00 rooms available, based in Seoul, was confirmed to be about approximately 160. Of wheels it would not be enough.
2. Hotel information
Compared Hotelnow shows the state lacks a bit. It was only provide general information and location information, if you provide a good ARM, more systematically organize the information.
3. Ease of booking
Booking process is accompanied with soy Hotel Anau. In the case of single daily hotel supports the simple settlement payment that allows you to quickly register the card that you use frequently.
hotelnow
Rated 4 out of - you want to recommend a variety of rooms
Reservations can be one
Now in addition to the hotel is the hotel, also offers booking of residency, such as throwing, resorts, pensions, motels. The exact number of available reservations seemed to be eopeotjiman more information on the many different lodging than a hotel check.
2. Hotel information
As you can see very detailed and motels app provides detailed information. The one marked with an icon for the provision of the service is convenient can of course check the rating of the bloggers and the media.
3. Ease of booking
There is nothing to be special. It does not support the simple settlement unfortunate part. Call provides that payment of ARS expected to be useful for users that prefer to enter the card number.
Convenience features
Hagieneun assess the core features only two apps are so many and varied comfort functions. Since the evaluation was similar to the previous two apps it will be good idea to choose the apps you use primarily as a convenience feature.
Daily Hotel
Rated 4 out of - even ahswipgineun
1. Support map
Unlike visible to filter by keyword Now the hotel, daily Hotel is convenient to determine the number, location and price of the available room on the map.
2. restaurant reservations
The hotel also offers daily and the hotel restaurant booking service called Daily Gourmet. So you can book at the best price for your favorite users would not be very useful.
3. extended stay reservations
Unlike hotelnow that can be booked up to only about a month, it can be booked for longer than a month. So I would not want to have a useful part of the user.
hotelnow
Rated 4 out - pretty fairly satisfied
1. Support Advanced Search
Now hotel supports the necessary additional services, price, details of the search area. It is confirmed on the map as a daily hotel, but one can be obtained through the optimized filter.
2. The remaining rooms can confirm
Now it marks the remaining hotel rooms are in room selection. It is convenient to determine the impending sold out room at a glance.
3. gimgisa be called
hotelnow can call directly to the navigation app gimgisa after booking. Pressing the button while installing the app is launched automatically, and gives gimgisa guide you to that hotel.
The final evaluation
Both apps seems to be quite good evaluation of the user's function is also very useful enhancement. If the Daily Hotel only handling simple payment only after card registration, restaurant reservations, and only recommend such a map-based search possible reason, if the hotel Anau variety of lodging searchable, conditions, searchable, and the remaining rooms ensure possible, it is only recommended to provide more information, such as some reasons. Because the impending deadline Agencies cheaper rooms seem to be available in a more affordable quality accommodation prices, if available on the day.